Tri-County Behavioral Healthcare Veterans Program
 Founded in 1983, Tri-County Behavioral Healthcare is one of the 39 Community Centers in Texas that provides services to persons with mental illnesses and intellectual/developmental disabilities to all of the 254 counties in the state. Tri-County is a unit of local government sponsored by the Commissioners Courts of Liberty, Montgomery, and Walker Counties, and is funded primarily through billing for insurance and contracts with the Health and Human Services Commission. Service locations are in Conroe, Cleveland, Huntsville, and Liberty.
 Our Mission
Our mission is to enhance the quality of life for those we serve and our communities by ensuring the provision of quality services for individuals with mental illness, substance use disorders, and intellectual/developmental disabilities.
Military Veteran Peer Network (MVPN)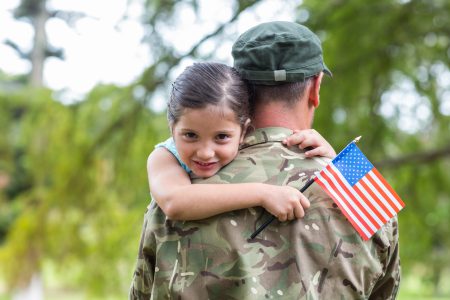 The Military Veteran Peer Network is a networking site for organizations and people serving Texas Veterans and their families. Here, they can stay connected, share knowledge, post events, and develop best practices to help support Veterans as they make the transition to life after service.
No one wades a stream without getting wet, and no one comes back from war unchanged. This is a toughening process for some people – a self-awareness generation engine.  The efforts of our troops may produce internal struggles, but those efforts also produce tested, accomplished people. Sometimes, people need a hand in slowing the internal conflict that emerges due to combat, deployment, military sexual trauma, or other abnormal situations. No one is better prepared to speak with a Veteran about his or her experiences than another Veteran.
With the peer-to-peer network, Veterans are given the opportunity to participate in a training course that teaches them how to become peer mentors. Once trained, they are tasked with going out into their local communities and creating peer groups, social groups, or other avenues of peer mentorship.
For further definition of the Veteran Peer Support program please read the Texas Health and Safety Code, Section 1001.201.
---
How MVPN was made available to Tri-County
The Department of State Health Services (DSHS) made funding available to local mental health authorities (LMHAs) in Texas specifically to help enhance access to resources for Service Members, Veterans, and their Families (SMVF) through peer-to-peer support counseling. Enhanced access is facilitated by Peer Coordinators of MVPN. LMHAs are to create their own position for Veteran services. There are up to 39 other MVPN Peer Coordinators connected to the other LMHAs throughout the state of Texas. By being connected to the LMHA, the Peer Coordinator for MVPN has direct access to mental health services.
Tri-County Behavioral Healthcare is the LMHA in Montgomery, Walker, and Liberty counties. The Veteran Services Liaison, Shirley Uriostegui, is the Peer Coordinator for the local MVPN Chapter. The main goal for the MVPN Peer Coordinator is to locate Veterans who are interested in becoming trained peer mentors in order to provide peer-to-peer support for local Veterans and their families. In addition to training Peer Mentors, the Veteran Services Liaison assesses Veteran needs in the community and attempts to make appropriate referrals to available resources. There are several options available for peer mentors to provide support, including the options listed below.
Peer Groups
One-on-one Peer Mentoring
Social Groups
Peer Court Mentoring
Jail Diversion for Veterans
---
A number of us at Henry's Home are Peer Mentor's, having gone through this training.  We enjoy having the leadership from Tri-County's veterans program, as well as the VA psychologists, come out to hang with us.  If they are going to give their veterans recommendations to join our programs, it's good to know what we do, right?
Shirley Uriostegui, Navy Veteran
936-521-6132
ShirleyU@tcbhc.org